作者 管敬革
Author guanjingge
管文贵董事长
President guan wengui
管文贵,何须人也?一个充满大善大爱的企业家,一个憨厚的大山的儿子,他的文化:小学,但就是这样一个普通的人却被中央领导点赞。
中国外交部领导张连佑评管文贵
他是大山的儿子,只做实实在在的事情,这是人们对管文贵的评价,虽然这个评价没有用什么华丽的词语,但真真实实地反映出文贵同志致富不忘初心,牢记使命的信念。他现在富了,身价上亿,但他永远没有忘记自己艰苦创业的路,没有忘记乡亲们对他的爱护和希望,报答党和人民的恩惠,当好带头人,看准商机,让村里的人都富起来的理想和信念,我们真诚的祝愿年富力强的管文贵同志:攀登不歇脚,更上一层楼。
中央国家机关工委郭存亮部长评大善之人福建香寮公司董事长管文贵
善爱成就事业
看了福建管文贵先生的事迹报道,感触颇深,我在想,他为什么能够成功,为什么得到众人的认可和称赞?思来想去,觉得他很重要的一点就是,心怀善爱之心,否则他不会帮助素不相识的受难乡妇,也不会舍弃赚钱的门路,而选择艰难的奋斗之路。他的善爱之举,赢得民心,赢得成功,是他辉煌的最大秘诀!应该为他点赞,为他祝福!
管文贵莅临北京
人间最美芳芬四月天,已亥岁首,管文贵,这位成功的企业家,大山的儿子,莅临北京。当时我们相拥而泣………前两年我随全国媒体走进福建时,曾听说这位管氏后人事迹的新闻。不久管文贵这样一个充满大善大爱的企业家,一个憨厚的大山的儿子,他的文化虽仅小学程度,但却被中央领导点名称赞:他,出生在福建闽南的大山深处,因为大山高远的沐浴锤炼出他那沉稳、坚毅而果敢的品格……。
他,本是一个山里的"穷小子",却经过自身不断的努力与探索,如今成为坐拥有上亿身价的成功农民企业家。他,饮水思源地在自己致富以后不忘回报乡亲成为村里的致富带头人。管文贵能力与声望被村民们选为所在村里村主任以后,更是一心扑在为民办实事,把百姓的权益放在第一位上而发挥着聪明才智,他以不俗的成绩单为群众心中的好人和好村官"……还是他,为全力改变家乡面貌建设新农村从生态环境、扶贫致富、精神文明等各方面进行努力,让山清水秀的家乡变得更美、更亮、更绿。他就是流传四乡八邻老百姓口中所赞誉的"农民好村官"管文贵,出生在福建闽南的大山深处的成长经历,管文贵谈起至少记忆尤深:年轻时不甘贫穷折磨,遂以已之力立誓改变家山致富的面貌。于是一边做事为立身安命,一边探索前行为日后积蓄经验:他开始尝试摸索性办了一个小型竹笋厂,虽然也获得一些利润,但是由于各方面条件的不成熟,半年后倒闭了……
越挫越勇方显男儿本色。管文贵并没有气妥,洒脱地拍一拍身上的灰尘,走进城市再次创业,一路走来历尽的是摸爬滚打,吃尽苦头,但是事业还是做得不够出色。而让他的创业之路发生转折点还是在自己的家乡----
香寮小山村就是管文贵一个注重观察、心思缜密的杰作:乡村旅游产品。说起灵感缘于管文贵当时还在一家酒店打工时的意外收获。有一次,老板让他去泉州出差办事。在无意间他目睹着一位台商和一位当地根雕师傅的交易过程:台湾商人居然以17万元的天价买走着一个红豆杉根雕,这个价格着实让管文贵吃了一惊,这样的红豆杉树根在自己的家乡----香寮山村是随处可见的,没想到不起眼的老树根里竟然隐含着巨大的财富啊。
受到启发的管文贵立即转战于家乡,开始寻找大山深处的那一些老树根。他在找到合适的树根之后,就挑找一些匠心精湛的根雕师傅进行雕刻和装饰。最后他就将
其带至城里通过朋友进行售卖。没想到,管文贵始终深怀着一颗心里善良,真诚,感恩与诚信,使他初战告捷,无论商战或身份如何变换,唯有这是他的不忘初心。
记得有一个夜晚,管文贵开车回家途中。碰到一个被烧得黑乎乎的人拦住在他的车前。管文贵立即下车询问情况。那人说自己烧伤了,请求能否将其送至医院。管文贵二话没说,就将这个陌生路人拉进自己的轿车,以最快的速度将她送进了医院。当时,这个人身上没有带钱…2014-2018年管氏救助平台成立,管文贵为管氏病患者捐款十几万元,他是管氏家族企业家中较有爱心,善心,乐善好施的人……
国家改制重组部委建立起文化与旅游部:在诗与远方如何兼得制定出新国策。管文贵虽身处深山富贵但对书画情有独钟,2014年东北同宗管敬革在北京画院学习,管文贵曾说:姐,你到福建大山里写生,你在北京学习的生活费,学费我包了……他就是这样豪爽与管氏山水画结缘,我们相约五年以后相聚京城,2019年4月管文贵如约来到北京,与管捷秘书长话酒茶谈得非常投机,后来管文贵动情说:他非常喜欢管氏风的蓝色梦冰雪画……
管文贵董事长邀请管敬革画家到福建大山深处,为他现场创作巨幅山水画。
南北兄弟姊妹亲,春风送暖北京城。岁岁朝朝管子孙,今朝相逢泪千重。岁月沧桑千余载,同根绵绵血情浓。绿水青山微信中,网络鸿雁架长虹。揮写丹青人生梦,香寮庄主缘亲衷。管敬革为管文贵兄弟相逢北京而作。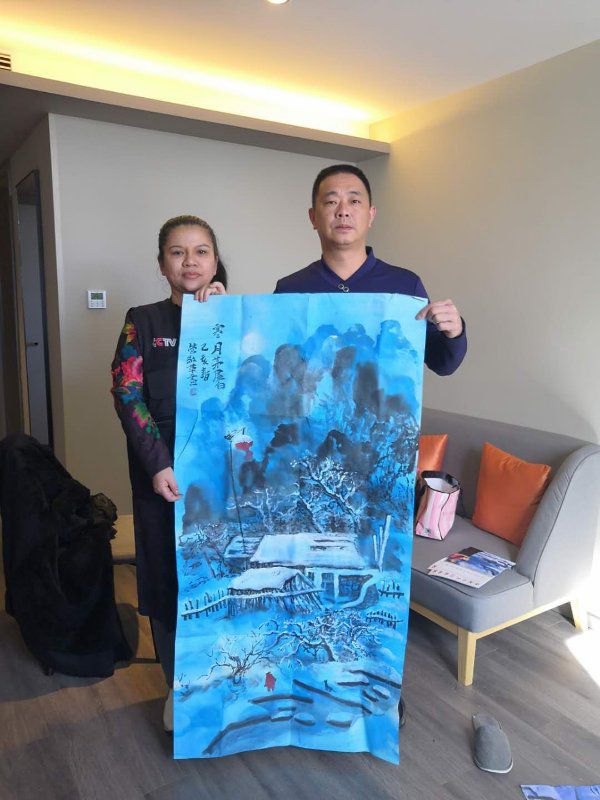 管文贵与媒体人画家管敬革,管文贵非常喜欢管敬革创意的冰雪画一蓝色梦
Guan wengui and media artist guan jingge, guan wengui likes his creative ice and snow painting a blue dream
Guan wengui, why people also? An entrepreneur full of great kindness and great love, the son of a simple and honest mountain, his culture: primary school, but such an ordinary person is led by the central government.
Zhang lianyou, head of the Chinese foreign ministry, on guan wengui
He is the son of dashan and only does the real things. This is people's evaluation of guan wengui. He is rich now, billionaire, but he never forgot his hard work, did not forget folks love and hope, he thanked the party and the people's favor, being a good leader, seize opportunities, make people in the village are all rich ideal and faith, we sincerely wish the young comrade GuanWenGui: climbing is not rest, to the next level.
Guo cunliang, minister of work committee of central state organs, comments on guan wengui, chairman of fujian xiangliao company
Good love makes good work
After reading the story of fujian guan wengui, I felt deeply. I was wondering why he was successful and why he was recognized and praised by others. After thinking about it, I think it is very important for him to have a heart of kindness and love, otherwise he will not help the suffering women who do not know each other, nor will he give up the way of making money and choose the hard way of struggle. His ACTS of kindness and love, winning the hearts and minds of the people, to win success, is the greatest secret of his brilliant! Should be thumb up for him, bless him!
Guan wengui is visiting Beijing
In April, guan wengui, a successful entrepreneur and son of dashan, came to Beijing. When we cried and hugged... When I visited fujian with the national media in the past two years, I heard about the story of this descendant of the guan family. Soon guan wengui, an entrepreneur full of great kindness and great love, was the son of a simple and honest mountain. Although his culture was only at the elementary school level, he was named and praised by the central leadership: he was born in the deep mountains of southern fujian province, because the lofty mountains were ablated and tempered his calm, firm and resolute character... .
He was originally a "poor boy" in the mountains, but through his own continuous efforts and exploration, he has become a successful farmer enterprise with hundreds of millions of dollars
Home industry. He, drinking water to think of the source of land after their own rich don't forget to return villagers become rich leaders in the village. Guan wengui's ability and reputation were elected by the villagers as the director of the village, but he was devoted to doing practical things for the people, putting the rights and interests of the people in the first place and giving full play to his intelligence and wisdom, he was a good man and a good village official in the hearts of the people with a good report card... Or he, after unremitting efforts, become a deputy to the National People's Congress and concentrate on performing the duties of deputies to the National People's Congress, in order to change the face of his hometown to build a new rural journey: from the ecological environment, poverty alleviation and wealth, spiritual civilization and other aspects of the efforts, let the beautiful hometown become more beautiful, brighter, greener. Guan wengui, who was born in the deep mountains of southern fujian province, has a deep memory of at least. He did not want to be tortured by poverty when he was young, so he vowed to change the face of jiashan mountain to become rich with his strength. So while doing things to secure his life, while exploring the behavior before the future savings experience: he began to try to do a small bamboo shoots factory, although also get some profit, but due to the immature conditions in all aspects, half
Went out of business five years later...
The more the more yong square show a man's true colors. Guan wengui did not gas properly, free and easy to pat on the body of the dust, into the city to start a business again, all the way through is to climb, eat bitter
First, but the cause is still not doing well enough. The turning point of his entrepreneurial career was his hometown
Xiangliao village is guan wengui a focus on observation, thoughtful masterpiece: rural tourism products. Speaking of inspiration comes from guan wengui was still working in a hotel when the unexpected harvest. Once, the boss asked him to go to quanzhou on business. Unwittingly he watched a commercial and a local root carving master trading process: Taiwan businessmen had walked to the high price of 170000 yuan to buy a third root, the price really let GuanWenGui eat a surprised, the yew tree roots in his hometown - the Lao mountain village is ubiquitous, think that the humble old roots and implied great wealth.
Inspired, guan immediately turned to his hometown and began to look for some old roots deep in the mountains. After he found the right roots, he picked out some masters of root carving with exquisite craftsmanship
Carve and decorate. Finally he will
They are brought into the city and sold through friends. Unexpectedly, guan wengui has always been deeply with a heart of kindness, sincerity, Thanksgiving and integrity, so that he won his first battle, no matter how the business war or identity change, only this is his original heart.
I remember one night, guan wengui was driving home. He met a blackened man standing in front of his car. Guan wengui immediately got off the bus to inquire about the situation. The man said he was burned. Please
Ask whether send its to the hospital. Without another word, guan pulled the stranger into his car and rushed her to the hospital as fast as he could. At the time, the man had no money with him... From 2014 to 2018, guan wengui's relief platform was established. Guan wengui donated more than 100,000 yuan to the patients with guan's disease. He is a caring, kind and giving person in the family business...
Ministry of culture and tourism: how to combine poetry and distance to make a new national policy. Guan wengui has a special liking for painting and calligraphy though he lives in a remote place with wealth and wealth. In 2014, guan jingge, a member of the same clan in northeast China, studied in Beijing painting academy. In April 2019, guan wengui came to Beijing as scheduled. We had a very good talk about wine and tea with the secretary general of guan jie. Later, guan wengui said emotionally that he was very fond of guan's paintings of blue dreams and ice and snow...
Guan wengui, chairman of the board of directors, invited guan jingge painter to deep in the mountains of fujian province to create a giant landscape painting for him on the spot.
North and south brothers and sisters, warm Beijing spring breeze. Through the ages tube children and grandchildren, meet tears thousand. Years of vicissitudes of life more than a thousand years, the same root thick blood. In WeChat, the network hongyan frame changhong. Write danqing dream of life, xiangliao zhuangzhu predestination. Guan jingge for guan wengui brothers meet in Beijing.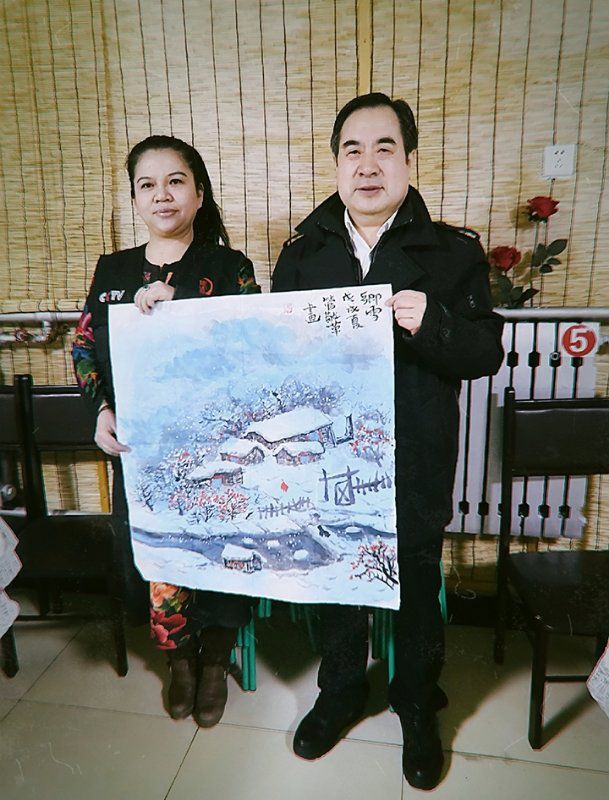 管敬革与中国外交部参赞张连佑
Guan jingge and zhang lianyou, counselor of the Chinese foreign ministry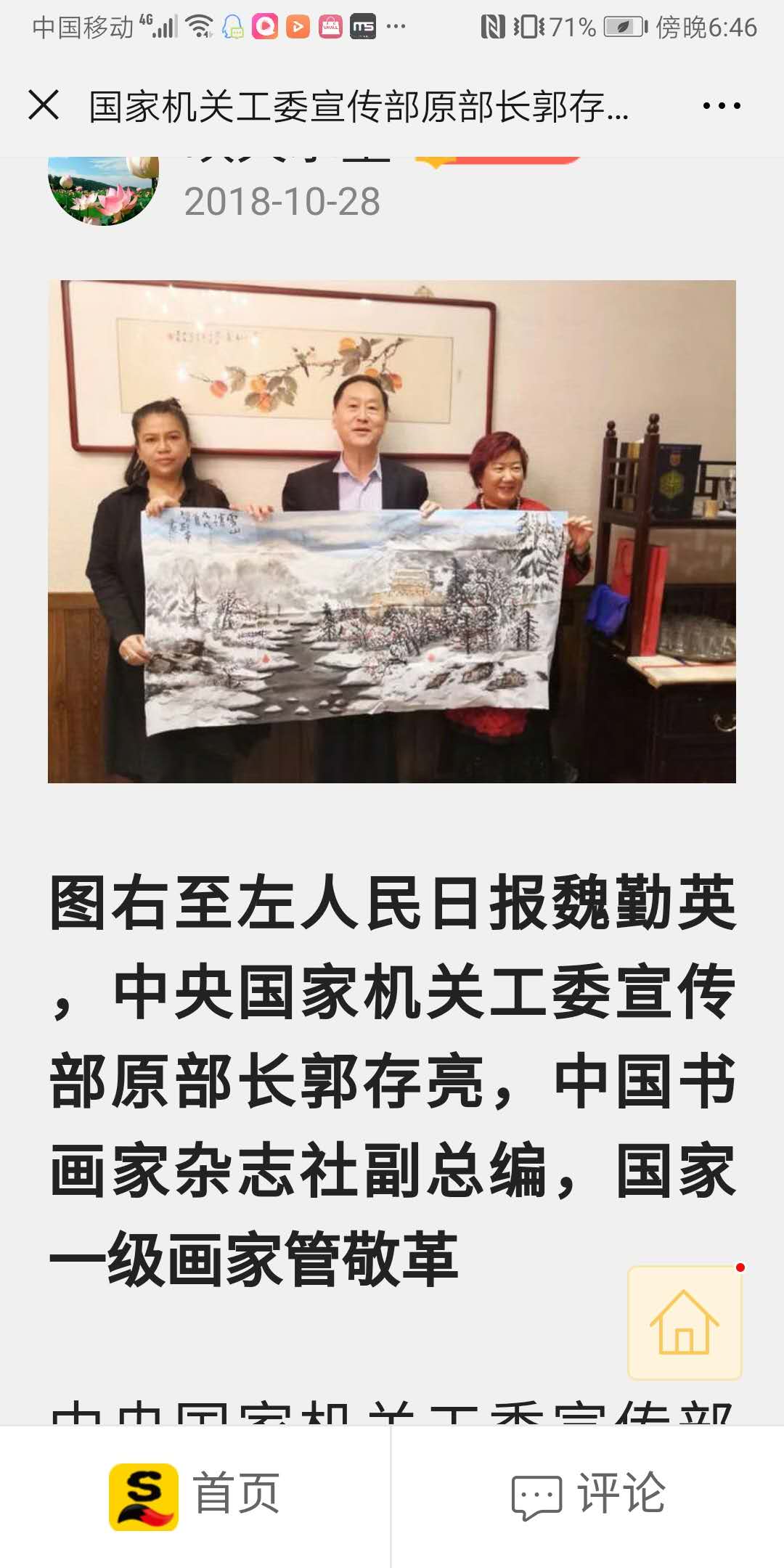 管文贵与媒体人画家管敬革,管文贵非常喜欢管敬革创意的冰雪画一蓝色梦
Guan wengui and media artist guan jingge, guan wengui likes his creative ice and snow painting a blue dream
管文贵与媒体人画家管敬革,管文贵非常喜欢管敬革创意的冰雪画一蓝色梦
Guan wengui and media artist guan jingge, guan wengui likes his creative ice and snow painting a blue dream
(左)管敬革女士(右)管文贵先生
(left) Ms. Guan jingge (right) Mr. Guan wengui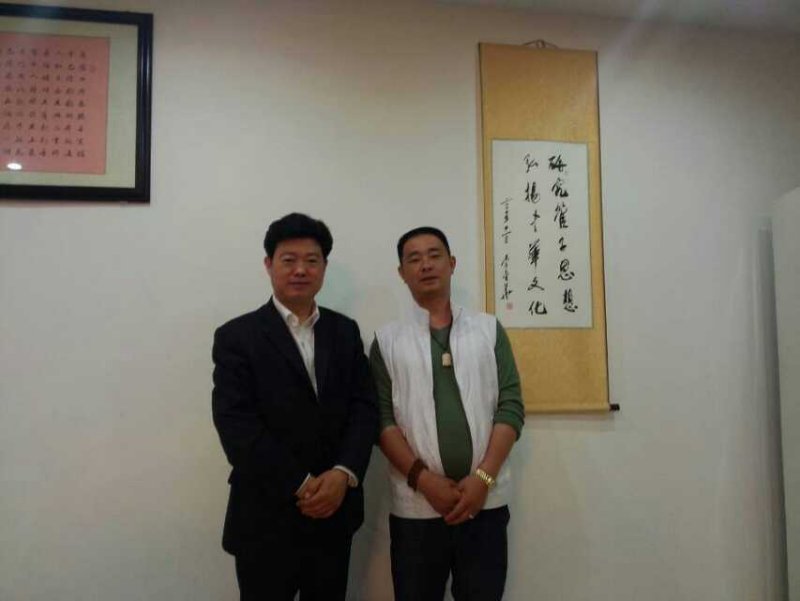 (右)管文贵与管捷秘书长
Guan wengui and guan jie secretary-general
管文贵与夫人林春香,白手起家创业,夫人是他的贤内助
Guan wengui and his wife Lin chunxiang, self-made business, the wife is his wife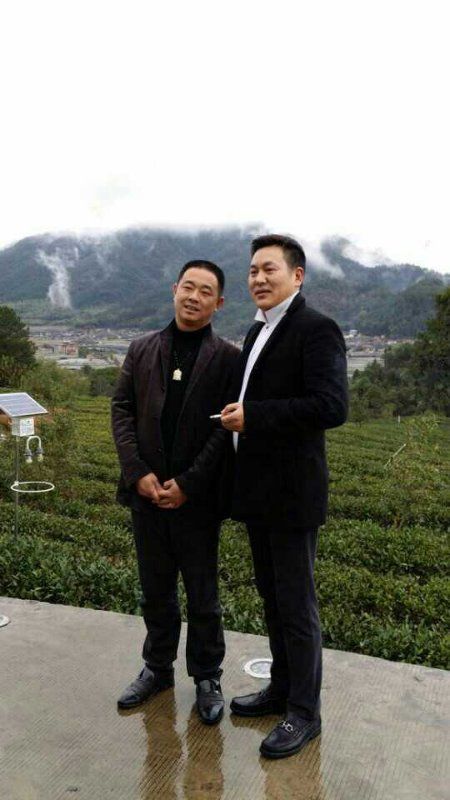 (左)管文贵先生
(left) Mr Guan wengui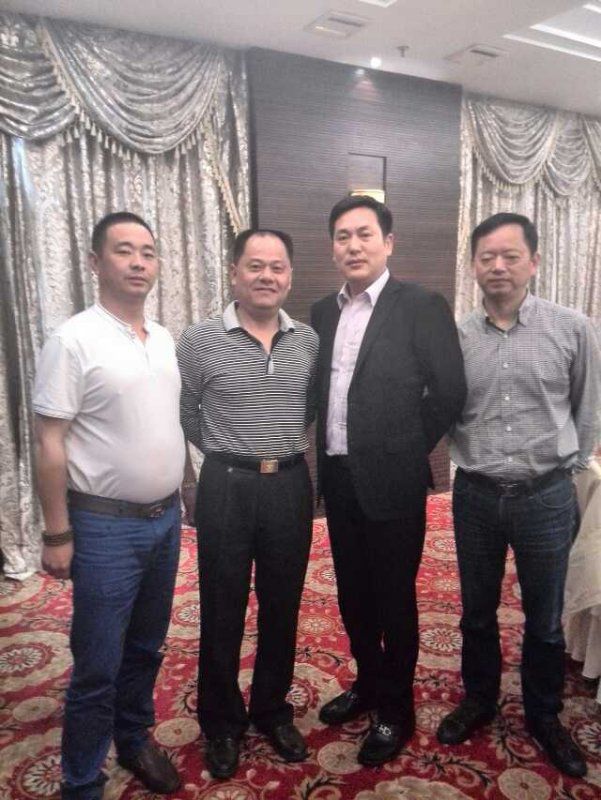 (左一)管文贵先生
(left) Mr Guan wengui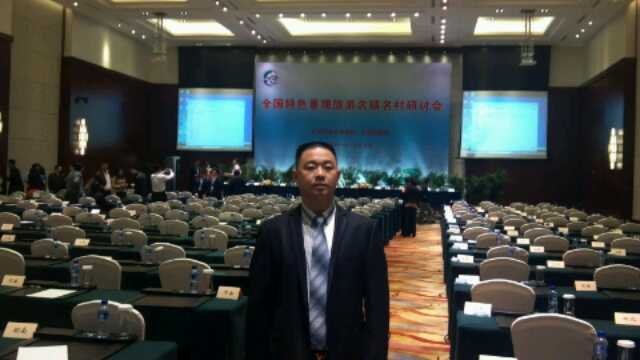 管文贵先生
Mr Guan wengui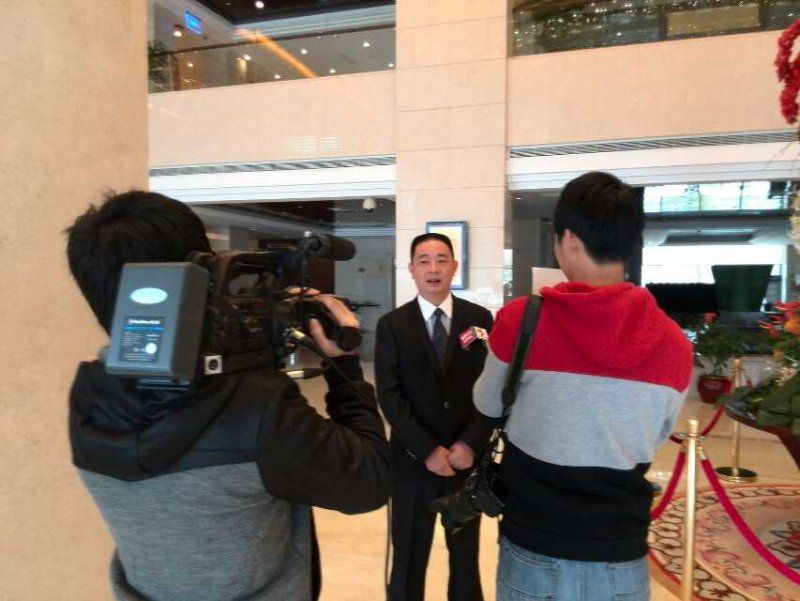 管文贵接受媒体采访
Guan wengui speaks to the media
集体合影
Group photo
管文贵与夫人林春香
Guan wengui and his wife Lin chunxiang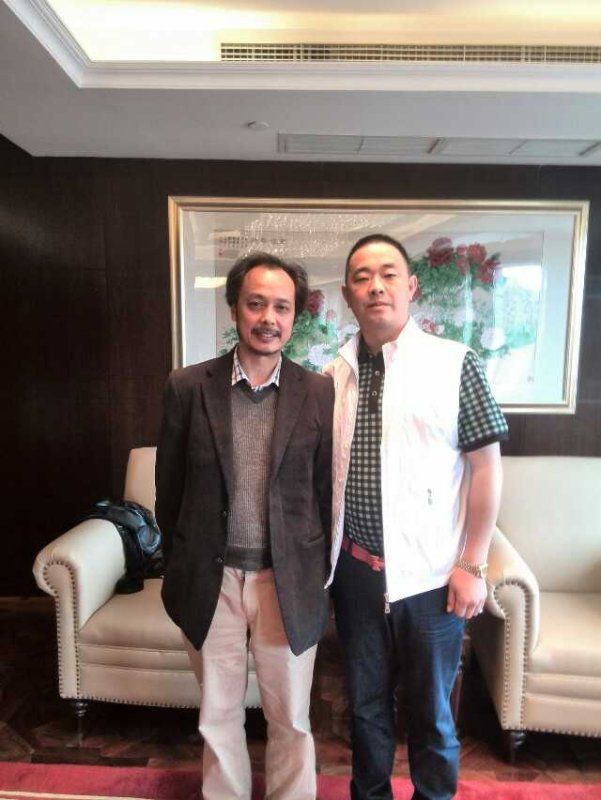 (右)管文贵先生
(right) Mr Guan wengui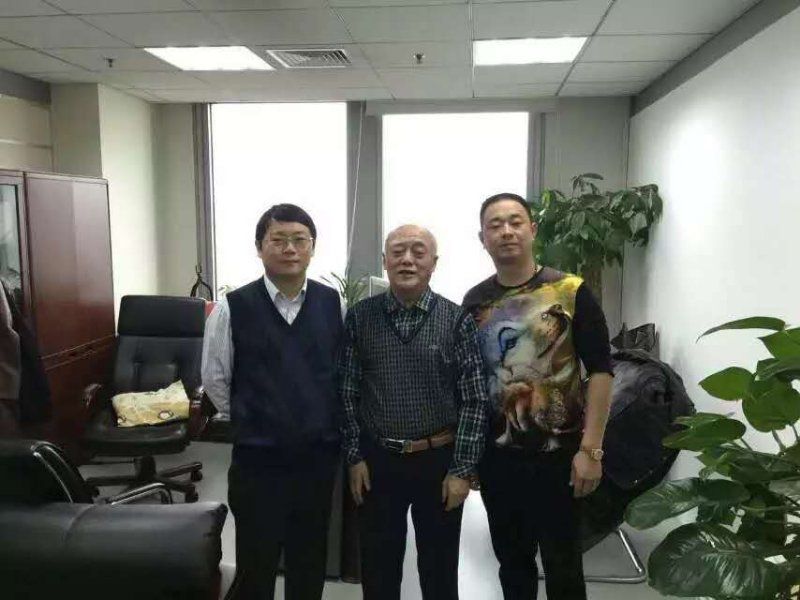 (右)管文贵先生
(right) Mr Guan wengui
(中间)管文贵先生
(right) Mr Guan wengui
(右)管文贵先生
(right) Mr Guan wengui

李书磊,中央纪律检查委员会副书记到香寮山庄考察,与管文贵合影
Li shulei, deputy secretary of the central commission for discipline inspection, visits xiangliao mountain resort and takes a photo with guan wengui

梁建勇,原龙岩书记,现福建常委秘书副省长与管文贵
Liang jianyong, former secretary of longyan, secretary and vice governor of fujian standing committee and guan wengui

(右)管文贵先生
(right) Mr Guan wengui

管敬革画家作品
Works by guan jingge, a painter

管敬革画家作品
Works by guan jingge, a painter

管敬革画家作品
Works by guan jingge, a painter







福建香寮风光
Xiangliao scenery of fujian province
朋友,还记得陶渊明笔下的《桃花源记》吗?
………缘溪行,忽逢桃花林,夹岸数百步,中无杂树,芳草鲜美,落英缤纷………
复行数十步,豁然开朗。土地平旷,屋舍俨然,有良田美池桑竹之属。阡陌交通,鸡犬相闻,黄发垂髫,怡然自乐………
陶渊明这篇文章写出当时战乱年人民对美好和平生活的向往………
但过了千年后,在中国南部福建省真的有一个这样梦一样的桃花源。
香寮村被國家住建部、國家旅遊局評為"全國特色景觀旅遊名村",這也是龍巖市繼上杭五龍村、連城培田村後,獲此殊榮的第三座村莊。曲徑通幽良田美池 香寮村位於漳平市西北部的赤水鎮,與三明永安市接壤,距市區56公里,面積58平方公里,緊挨著天台山,是天台國家森林公園的核心景區。 處在重重大山包圍中的香寮村,以前只有一條小路與外界相通。上世紀90年代,才拓寬修建了一條水泥路。倘若遊客從廈門出發,由208省道經華安、漳平,行車約3小時便能抵達香寮村。 車子沿著大涵溪峽谷蜿蜒前行,涓涓細流不改千百年的身姿在溪澗裡緩緩流淌。當地人說,這個峽谷裡,還有兩個天然泳池,"裡面的水都是山泉水"。 車行20分鐘,峽谷頓消,豁然開朗,眼前是一片寬大的盆地。山風拂煦,吹過連綿的稻田和菸葉,送來濃濃的泥土的清香。菸葉那頭,一群白牆灰瓦的矮民居錯落有致,掩映在綠樹翠竹之間,依偎在天台山腳。 三條小溪將村子分為幾部分,各片之間,又有古橋溝通。唐代始建的香山橋、嶺兜萬安橋、化龍橋、登嬴橋等十幾座古橋,古色古香,訴說著村子數百年來的美麗傳說。 陶淵明筆下的"土地平曠,屋舍儼然,有良田美池桑竹之屬",儼然描述的就是這裡的美景!為避戰亂百姓遷入
移步村中,建於清朝的磚木門樓八字大開,雖有雜蕪點綴,卻不失當年官宦人家的氣派。連接著門樓和民居的,是一段段斑駁的磚牆。
香寮山庄位于天台山脚下,王景弘故里,百姓古村----漳平市赤水镇香寮村。香寮村隶属于福建省漳平市西北部的赤水镇,是明代著名航海家王景弘的故里,全村1600多人,近百个姓氏,被誉为"百姓村",是少数民族(畲族)行政村。香寮村的天台山2004年正式被国家林业局命名为天台国家森林公园。
香寮山庄依山傍水,绿树掩映,300亩茶园郁郁葱葱环绕其中,置身香寮山庄,仿若净土,城市的繁杂喧嚣顿时隐没在青山绿水之间。香寮山庄是由景弘故里生态休闲有限公司全资投资,山庄占地30公顷,设有香寮山庄酒店,木屋别墅,跑马场,王景弘纪念庙,铁索桥,烧烤区,篝火广场,捞鱼池,露营区,天然氧吧,娱乐会所,休闲垂钓区,自行车项目等。
香寮山庄酒店:山庄酒店极具乡村特色,U型开放式酒店格局,实木本色装修风格,中间环抱式花园喷泉,优雅精致的中餐厅,三个豪华包厢,可提供260人同时用餐,二楼配有可同时容纳150人的多功能会议厅,酒店共设32间客房,内含16间特色客房(每间装修风格各不相同),配有专属的泡浴桶,超自然享受。
特色木屋别墅:木屋别墅依山而建,面向香寮水库,景色宜人。
铁索桥:铁索桥名为香云桥,全长60米,高度30米,横跨香寮水库,桥头设有两个供游客小憩的桥头亭。
王景弘纪念庙:王景弘,著名航海家,香寮许家山人,与郑和同为正使七下西洋,郑和去世后,王景弘继续带领船队完成了最后一次远航。他同郑和一样是我国历史上伟大的航海家,外交家。为纪念这位伟大的先人,香寮人建了王景弘纪念庙供后人瞻仰。
跑马场:香寮山庄跑马场马种为哈萨克马(注:产于新疆的哈萨克马是一种草原型马种。现今伊犁哈萨克州一带,即是汉代西域的乌孙国。两千年前的西汉时代,汉武帝为寻找良马,曾派张骞三使西域,得到的马就是哈萨克马的前身),这些马经专业的驯马师精心训练,性格温顺,高大威猛,游客可以在驯马师的指导下,体验一把横刀立马,驰驰骋疆场的感觉。
烧烤区:烧烤区为开放自助型,游客可尽情享受烧烤的乐趣。
篝火广场:篝火广场毗邻烧烤区,占地宽广,可举办大型篝火晚会。
露营区:露营区设在山庄北面的原始林内,树林底下细沙铺地,可提供帐篷出租服务。
垂钓项目:香寮山庄紧邻香寮水库,香寮水库是休闲垂钓的好去处。
如今的香寮村,與天台山一起作為漳平天台國家森林公園的景區,漸漸為外界所知。

美丽迷人的香寮山庄
Beautiful and charming xiangliao villa
My friend, do you still remember tao yuanming's peach garden?
...... Edge stream line, suddenly meet peach blossom forest, hundreds of steps between the shore, no miscellaneous trees, fresh grass, fallen petals......
After dozens of steps, suddenly enlightened. The land is smooth and relaxed, the house peremptorly, has the good field beautiful pool mulberry bamboo's genus. Crisscross road transportation, the news of the old and the young, the old and the young...
Tao yuanming wrote this article about the people's yearning for a better and peaceful life during the war years...
But thousands of years later, in fujian province in southern China, there is really a dreamlike peach blossom land.
Xiangliao village was named "national characteristic landscape tourism village" by the ministry of housing and urban-rural development and the national tourism administration. Located in chishui town in the northwest of zhangping city, meichixiangliao village is adjacent to yongan city in sanming dynasty. Surrounded by mountains, xiangliao village used to have only one path connecting it with the outside world. Only in the 1990s was a concrete road widened and built. From xiamen, it takes about 3 hours to reach xiangliao village on 208 provincial road via hua 'an and zhangping. The car wound its way along the dahanxi canyon, and the trickling water trickled slowly through the stream. Locals say there are also two natural pools in the canyon, "filled with mountain springs". After 20 minutes of driving, the canyon suddenly disappeared and a wide basin appeared before my eyes. Mountain breeze genial, blowing through the continuous rice fields and tobacco leaves, sent a thick fragrance of soil. At the end of the tobacco leaf, a group of white walls and gray tiles of the low residential scattered, hidden in the green trees and bamboo, nestled in the foot of the tiantai mountain. Three streams divide the village into several parts, which are connected by ancient Bridges. The xiangshan bridge, lingdou wanan bridge, hualong bridge and dengying bridge built in the tang dynasty are more than ten ancient Bridges, which tell the beautiful legends of the village for hundreds of years. Tao yuanming's words "the land is smooth and open, the houses are just like, there are good fields, beautiful pond, mulberry and bamboo", just like describing the beautiful scenery here! People moved in to escape the war
Qibu village, built in the qing dynasty, the brick and wood gate eight characters open, although there are miscellaneous decorations, but do not lose the style of the official family. Connecting the gate tower with the houses are sections of mottled brick walls.
Xiangliao villa is located at the foot of tiantai mountain, the hometown of wang jinghong and the ancient village of common people -- xiangliao village, chishui town, zhangping city. Xiangliao village belongs to chishui town, northwest of zhangping city, fujian province. It is the hometown of wang jinghong, a famous navigator in the Ming dynasty. There are more than 1600 people in the village with nearly 100 surnames. Tiantai mountain in xiangliao village was officially named tiantai national forest park by the state forestry administration in 2004.
Xiangliao mountain resort is surrounded by green trees and surrounded by 300 mu of tea gardens. Surrounded by the mountains and rivers, xiangliao mountain resort looks like a pure land and the hustle and bustle of the city disappears into the green hills and rivers. Xiangliao villa is wholly invested by jinghong guli ecological leisure co., LTD. It covers an area of 30 hectares and has xiangliao villa hotel, wooden villa, racecourse, wang jinghong memorial temple, iron rope bridge, barbecue area, campfire square, fishing pool, camping area, natural oxygen bar, entertainment club, leisure fishing area, bicycle project, etc.
Incense villa hotel: Lao mountain villa hotel features, U open the hotel landscape, real wood instinctive quality decorate a style, in the middle surrounded by garden fountains, elegant and delicate Chinese restaurant, three luxury boxes, can offer 260 people dining at the same time, the second floor is equipped with multi-function hall can accommodate 150 people at the same time, the hotel a total of 32 rooms, containing 16 characteristic rooms (each different decorate a style), equipped with exclusive bubble bath bucket, supernatural enjoyment.
Characteristic wooden house villa: the wooden house villa builds along the mountain, faces the xiangliao reservoir, the scenery is pleasant.
Iron cable bridge: named xiangyun bridge, the iron cable bridge is 60 meters long and 30 meters high. It crosses xiangliao reservoir and has two pavilions at the end for tourists to have a rest.
Wang jinghong memorial temple: wang jinghong, a famous navigator and a native of xiangliao xu jiashan, made seven voyages to the western seas together with zheng he. After zheng he died, wang jinghong continued to lead the fleet to complete the last voyage. Like zheng he, he was a great navigator and diplomat in Chinese history. In memory of this great ancestor, xiangliao people built wang jinghong memorial temple for future generations to pay tribute to.
Horse racecourse: xiangliao mountain village horse racecourse is a type of grass horse. Today ili kazak state area, that is, the han dynasty in the western regions of wu sun. In the western han dynasty, 2,000 years ago, emperor wu of the han dynasty sent zhang qian to the western regions to look for outstanding horses (the predecessor of the kazakh horse). The horses were carefully trained by professional trainers, and were mild in character, tall and powerful.
Barbecue area: the barbecue area is open and self-service, visitors can enjoy the fun of barbecue.
Bonfire square: adjacent to the barbecue area, bonfire square covers a large area and can hold large bonfire parties.
Camping area: the camping area is located in the original forest north of the mountain villa.
Fishing project: xiangliao villa is close to xiangliao reservoir, which is a good place for fishing.
Today's xiangliao village, together with tiantai mountain as zhangping tiantai national forest park scenic spot, gradually known to the outside world.

福建香寮风光
Xiangliao scenery of fujian province

福建香寮风光
Xiangliao scenery of fujian province

福建香寮风光
Xiangliao scenery of fujian province

美丽迷人的香寮山庄
Beautiful and charming xiangliao villa

美丽迷人的香寮山庄
Beautiful and charming xiangliao villa

福建香寮风光
Xiangliao scenery of fujian province

福建香寮风光
Xiangliao scenery of fujian province

福建香寮风光
Xiangliao scenery of fujian province

福建香寮风光
Xiangliao scenery of fujian province

福建香寮高尔夫场地
Xiangliao golf course, fujian province

福建香寮特色烧烤
Special barbecue in xiangliao, fujian